All is not lost ;)
by Erin
(New Zealand)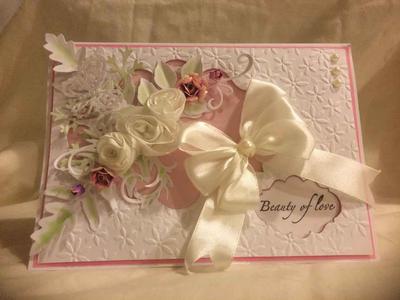 Birthday Card, front view
I started making cards this year and love it. I get my best inspiration when making a card for someone I know.

I made a card inspired by you, Christina, as I have watched all your videos on You Tube, you have taught me so much and I love your style. Pretty with flowers, ribbons and lace.

I made this card and the box and was rather proud of it until I sat it on a small wooden easel in front of an oil diffuser.

When I picked it up and looked it over a day or two later the back of the box had absorbed the oil and it had gone through into the back of the card too.. eckk I thought all my hard work had been ruined.

I then remembered that you had shown or said that nothing is ruined and can always be fixed or altered.

So I remade a new box base and glued on a new card back and added a die cut with sentiment into the inside of the card... result.. all better AND it smells nice too.. lol.

I've since made a Condolence card in the same style.(pic 3)

Thank You so much Christina for sharing with us all your knowledge and creativity. xoxo

Christina says ...

Phew !! Thank goodness for that it would have been such a shame to throw this really pretty card away when just a little mind power can salvage it.