All Die Cut Christmas Card
by Melanie Keenan
(Radisson, WI, USA)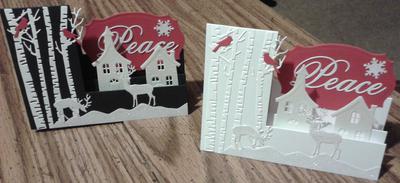 I have been card making for about 8 years. The card fold is a step card. Except for the sentiment, this card is completely made from die cuts.

Die cuts used:
Birch Trees (Cardinals are part of this set). I believe this is from Impression Obsession.
Deer - Impression Obsession #DIE117-C, cut from glitter paper.
Peace - Impression Obsession, cut from red or glitter paper.
Houses - Lea'bilities #45.9012, I got this set from Amazon. Cut from shimmer paper.

I used the cloud border from this set to make snow banks, which I put in front of the houses and some on the front of the card, cut from glitter paper.

Labels 25 - Spellbinders Shapeabilities #S5-077, I used this on the back of the card for the sentiment and on some for the peace die cut.

I made 3 different designs, in white and red and in black and red.

I received a lot of compliments on these cards and I have to admit they were beautiful.

Christina says ...

I am not surprised that the compliments flowed as these cards are so pretty and would be sure to please the recipients.

This idea could be adapted to suit any occasion and they are truly a credit to you.