Paper-punches for Magical effects.
Paper-punches come in all shapes and sizes and can create the most magical effects on your cards, from corners to borders, all have their own charm.


A useful addition to any crafters tool box and there are a lot to choose from.
Borders and corners can be decorated with various designs that can make a whole new look to the finished card.
Try punching shapes from glitter or holographic card.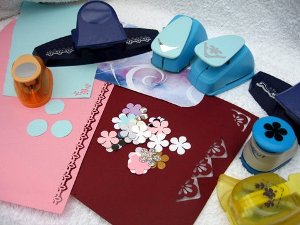 The picture shows a tiny display of some effects that can be achieved.
There are literally hundreds of them on the market
Here are just two different styles of borders and two of corners.
These will work on paper and thin card but the punch will jam up with thicker card.










Cutting a simple circle will produce a very pretty flower, and there are lots of different petal shapes, and whole flowers for you to choose from.
Glitter or emboss them, add gemstones and when these are mounted onto your card the effect is lovely.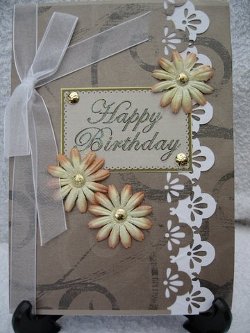 There are lace effects, which look amazing when used as a border on a pretty paper, try layereing them up on your card, in different colours.
Various leaf shapes to add to your flowers.
Snowflakes to add that finishing touch at Christmas.
Hearts, baby carraiges, animals, stars, cars, and trees, all can produce the most wonderful effects.
Magic!





Novelty Cards
Circle Punch Cards
Paper flowers
Equipment
Cardmaking Ideas
Easy Projects
More Projects
Kinetic Cards
Papercrafts


Tutorials

Resources

View all Pages and Topics

Return from Paper-punches to Homepage.










Can't find what you want? Let the search box help you.
Custom Search