Double Zig Zag Card
Single or Double Zig Zag Card ... the decision is yours
Having choices when you are making cards is what keeps the interest going and if that can happen from one particular fold then so much the better.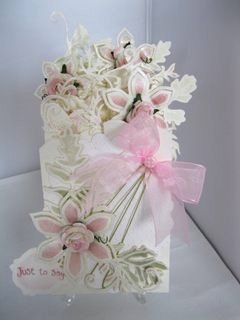 This card is so easy to do and to make the basic Tri-fold card there are also Written Instructions

Once you have the basic shape you may want to look at other ideas on what to do with it.
This short video will give you some different ways you may like to try with your Tri-fold Cards.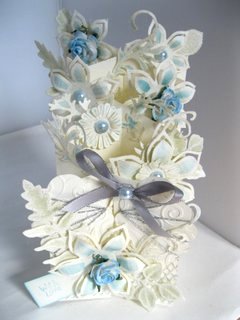 Make the card from two matching pieces of your cardstock for a lovely elegant look.
Or ring the changes and have two different coloured ones that will work together ... and another idea could be to use some Mirror card or any of the other beautiful Specialised Card

The flowers can be from whatever you have in your "Stash"
Paper punched, silk or Mulberry flowers all will make your creation special.
Or maybe you would like to try making your own, from ribbon or organza, and you will find several Tutorials for flower making that would all be suitable additions to the card.
On this one I have used Spellbinders

The effect is very pretty, but it is a very "girly" card.
But it can be suitable for all occasions and even for your male cards... if you can bear to leave the flowers off... (Sigh!!)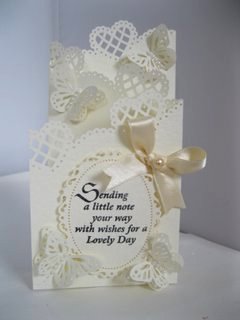 If you wanted to you could leave it as the single variation and it is quick and easy to do.
But because this is such a pretty effect then I hope you will give the Double Zig Zag card a try.
And don't forget to add your designs to the Gallery Page.







Easy Projects
More Projects
Ideas
Kinetic Cards
Papercrafts


Video Tutorials

Useful Resources

View all Pages and Topics

Return from Double Zig Zag Card to Homepage










Can't find what you want? Let the search box help you.
Custom Search