Floral Cards
I really hope that you have enjoyed all the videos so far and that you are now ready to move on to making the cards even prettier as we make some Floral Cards
I have never met anybody that doesn't enjoy flowers on their cards, even men, and babies don't complain about them either !!
For this section I have introduced some new dies to help us get the look to our floral cards that we want, and at the end of this page we will have three more lovely cards to add to our repertoire
I have added some substitute dies that can be used to give you the same kind of look as the Spellbinders 
This flower has several layers to it and you can stop at each layer to create a different look for your bloom.
The Large Blossoms Video will show you how I made this one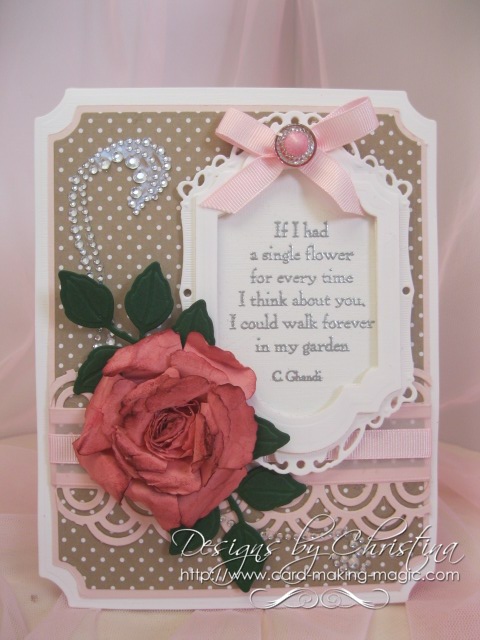 There are several dies that I have included in the new list that also have matching stamps to them. This will make your new flowers even better than before as you can add the look of texture to them and then die cut them out perfectly every time 
They will give you some lovely ways to create the floral cards with large and small flowers, and the Poinsettia is not just for Christmas as it can be used all year round for extra value.
Use some pastel colours and it would look just as good on a summer birthday card
The selection of dies at the end of the page are all from Card Making Magic and they are all available to purchase in my collections at
So What do we need?


Good quality card for your base
Good quality coloured card 
Die cutting machine
Heat resistant parchment
Embossing powder
Wet glue
Foam pads
Ribbon
Embellishments
Card 9 -- Layered Poinsettia


Card 10 -- Large Blossoms


Card 11 -- Pretty Flowers


We are starting to get a good selection of cards here that we can add to our skills and each video will give you another notch to your belt. I really hope that you have enjoyed all the videos that have been re - released and that you will try some of these ideas for your self.
Maybe you have the dies I have and maybe you joined the original classes.
If you did then thank you for your original support and please join in again and make more use of those dies.
Return from Floral Cards to Homepage