Background Dies

Thank you for joining me again on this last section and this time we are using Background Dies
 I would imagine that by now you are getting used to using  wonderful, creative dies and thinking about how you can use them in other ways.
And I can also imagine that you are becoming addicted to collecting them.  That is very easy to do as new and more intricate dies, and brands, are being added  to the market all the time.
So lets continue on our journey to 
"Create Beautiful Cards "
In this section there are three more cards for you to make and each will give you a different look that is pleasing on the eye.
Plus with each step that you take, you are learning to produce the most beautiful cards that you will always be proud to give to family and friends ... and maybe even adventurous enough to sell some
Don't forget to add your "Handmade By .... " with your name to the back if the card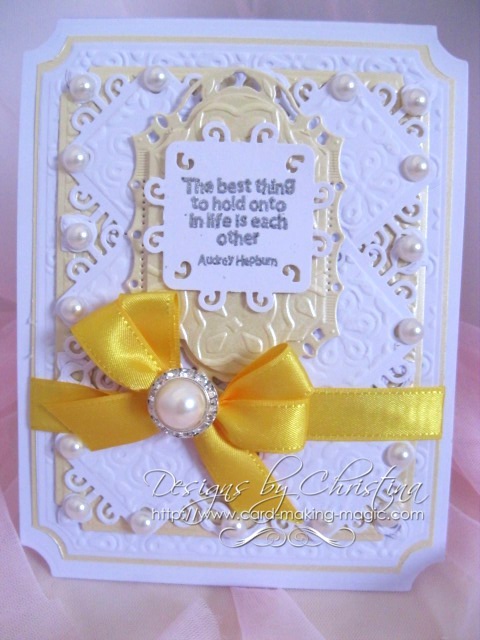 If you don't have the same background dies  in your collection that I have used, then please adapt each design with the ones that you do.
Always better to use existing items than to go out and buy more 
You will not be disappointed and once you have tried using any of your other dies it will also help you to look at the other brands in a new and exciting way too.
So what do you need ?


Good quality card for your base
Good quality coloured card of your choice
Die cutting machine
Dies already added to our collection
Background die 
Embossing folder from your "stash"
Wet glue
Ribbon
Foam pads or tape for dimension
Any Embellishments that you wish to add
Card 12 -  Embossing 


Card 13 - Lattice Background


Card 14 - Rotating the background


So there you have three more very pretty cards to add to your skills and I hope you have enjoyed making them. Please click the first five links below in order, to view the other cards made in this series.
They will open new windows for you 
And even though the vidoes are older the tips and techniques are still relevant 
Good quality card can make all the difference to your creations and I use most of the time, for my base a 300gsm card from
Below is a list of dies from Card Making Magic that can help you create the most beautiful cards and they are all available at