Happy Easter
Hi Everybody,
It's nearly the Easter Bunny time again and I prefer mine in the chocolate variety and not the fluffly, hopping kind....
Some of you will be enjoying a break away from home, others just chilling with family and friends.
You may even be planning a spot of crafting, and the weather forecast says it will be cold, so maybe that's not such a bad idea.
There have been six new videos added in March and there should be something for everybody in the mix somewhere.
Once again I have featured some of the Spellbinders and that makes eleven altogether in the Spellbinder Series

I have had lots of emails asking for more videos using the Spellbinders and so I have some more planned but with different sets of dies.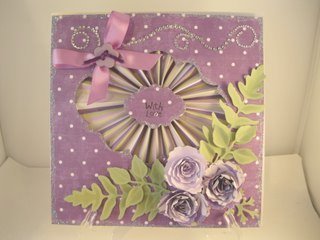 This unusual pleated centre really makes a focal point to your cards and it is not hard to do.

If you have made the concertina flowers to add to your cards then this is a doddle for you.

And if you are new to cardmaking then have a go at this technique ... you will not find it difficult to re-create for yourself.



I also added a new video that creates a card that is flat enough to post.

And the day after I added it to the website it was announced that the cost of postage in the UK was being increased massively.

So that was good timing on my part but a bad decision for the government in the UK.

Cards for Posting also included an idea for a new way to finish off the back of the card, to make it stand freely, and so eliminate the need to add an insert.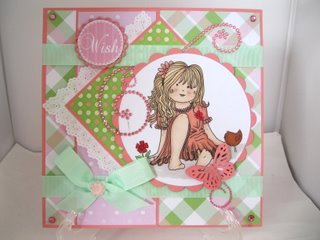 The cards have been made larger (8" Squares) in the video ... but the idea can be adapted to suit any size card quite easily as there is no measuring to do.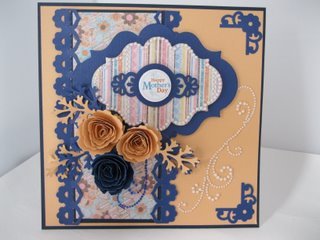 This card was featured in the video for the Nestabling and Spellbinders
but it is also one of the free standing cards.
The flowers mean that this one can't be added to an envelope, as the others, but it is a very pretty card to make.
And the Neastabling adds the finishing touch along the right hand side.

There are many ideas, techniques and tutorials, both written and in video format for you to try and so if you do plan a spot of crafting over the Easter Break then maybe there will be something there to catch your eye.
I would be delighted if you would consider adding your card photos to the Gallery and share with everybody your own personal creations.
And don't tell me that your work is not good enough, or up to the standard of someone elses, because it won't work.
The cards you make are special and you will be amazed at the response you get from the other visitors to the website.
But I would urge you to write a desrciption of how you made the card, what you used, and also the size of the finished creation so that others can see what you have done and copy it ... if they want too.
I have no wish to upset anyone ... but your card won't be added to the gallery if it is just a one liner .... "I made this for my nephew...."
So I apologise if it is not included ... but at least you will be able to work out why ... and add it again, with more info if you want to see it published on your own page.
Good News ...
I have notched up over 620,000 views on YouTube with over 1700 follwers and I am so pleased about it. And I am also delighted with the comments that people take the time to leave me after the videos.

At the begining of February I also started my Blog and that has already got over 100 followers too.

So if you wanted to join the gang then I would be really pleased to see your name in the list.



Flowers, Ribbons and Pearls is the name to look for and later this month it is going to have a whole new makeover.

I am working with a designer called Katie Price ... (and if you are in the UK then NO it's not that Katie Price)

So I hope you will like the new look once it is finished.

And please also pop over and click the "Like" button to Facebook and help to grow that area too.

There is a link to the Facebook page on the Blog as well.

So now all I need to say is Thank You so much for all your support and I hope you will continue to visit the website, Facebook and the Blog in the future.

Thanks also for the wonderful emails that you take the time to write to me and I will always reply to them.

It is my pleasure and an honour to have you consider me a friend that you can chat too.
New!

Comments Have your say about what you just read! Leave me a comment in the box below.