Summer Fun and Cardmaking.
Are you all ready to enjoy the summer? My fingers are crossed that this is going to be a good one this year, with some lovely summer days to enjoy the garden.
And of course do some cardmaking out there at the same time.
Perhaps a bit of coloring in, or getting die cuts ready to use, as I watch the butterflies flit by.
It's been a very busy month since the my last newsletter.
There aren't enough hours in a day...semi-retirement...I've never been so busy, I don't know how I had the time to go to work full time.
In the last letter I told you about our lovely break in Harrogate, and visiting the "Great Northern Papercrafts Extravaganza" (GNPE) show.
One of the products I purchased has been featured in cards I have made for the website.
It is a template from Bazzill to help you add gemstones
neatly, in the chosen pattern to your cards.

It wasn't expensive but can make such a difference to the overall effect.

You can get yours from the "Hobby House".

The one I have used is the Flourishes.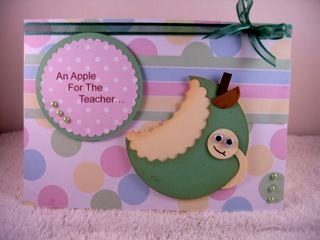 This fun card is also featured, and would be lovely for children to send to a favourite teacher at the end of term.
There are ideas and instructions for you to make this, and several more in Novelty Cards.

They are easy to create projects, and I really enjoyed making them.
The "Googly eyes" add something extra to the cards and are cheap to buy.
These cards are a good way to use up all your odds and ends with not much more than a circle punch, or die cut shapes.
Some of them are ideal for children to make, and with very little supervision from you.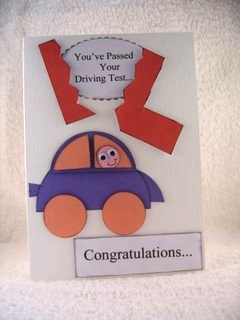 Here's one that would be appropriate to send to a new driver, and would certainly bring a smile to their face.

But you can adapt these cards for any theme you wish.

This month I have added another short video, which expands on the Card Folds.

It is made to show you how to work with the Tri-fold, and some of the variations you can achieve.

If you enjoyed the Basic Card Folds video, then you may also enjoy this one which will give you more folds to add interest to your projects.

They are all easy to do, and then how you dress the card can make them really special.

Add all the "Bling" you want, and make use of that growing stash.

Everyone that suscribed to this newsletter was given access to a copy of the free "Card Making Sketches" Booklet.

It introduced you to the concept of devloping sketches to help you with cardmaking and I hope you enjoyed it.

Maybe you printed it off to use as a reference point.

Well! now it's time to expand on that idea.


As a special "Thank You" to everybody for your continued support, please Click here for the second FREE booklet... from me with love, and I hope you enjoy this as much.

It needs a Pass word to access the page and if you type into the box, in uppercase STILLAVIP you will be able to down load the booklet.

If you right click the link you can copy it to your computer and print it off to read at your leisure.

It takes a while to download, because of the graphics in the booklet, so please be patient and wait for it to get there.



I hope you continue to enjoy your visits to the Website, and don't forget to leave your comments.

There are lots more interesting and fun projects in the pipeline, but they all take time, so please pop back often to keep up to date with them all.

Best wishes
New!

Comments Have your say about what you just read! Leave me a comment in the box below.