What a start to 2013 ...
I have had such a good start to this year ... everything seems to be going my way.
So the number 13 may be considered un lucky by some but for me this is going to be my year. And fingers crossed it stays that way.
I am so excited by all the changes that are happening and I don't know where to start to tell you about some of them.
One of the things that has happened is the opening of a shop on the website... and you will find a permanent link to "My Shop" at the top of the NavBar on every page.
I had a "Give Away" of the Blending blocks at Flowers, Ribbons and Pearls, and it was very popular.
So many people suggested that I sold them, to those that didn't win them, that the idea was born.
I had a lot of encouragement from my lovely followers that I thought it would be worth a try.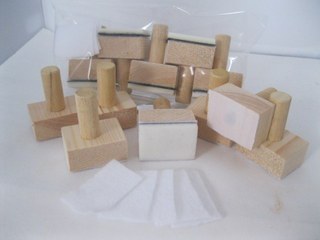 My trusty "Film Crew" ... after researching materials came up with a design that was excellent.

And he was then duly promoted to "Chief Blending Tool Maker"

Together we researched the best costs for posting.

Once we were happy the shop finally went live.

As of today the 5th February 2013 you can now buy the pack of five blending tools for yourself for £12.50 + P&P for a pack of five

This is a very competitive price and I don't think you will be disappointed with your purchase if you go to visit MY SHOP

And to help explain the Blenders and their use properly ... to those who are new to them ... I made a short video...

How to use a Blending Tool

On the Spellbinders theme I have made some really pretty cards using some of the Grand dies.

One was in the shape of a book and used the larger Labels 4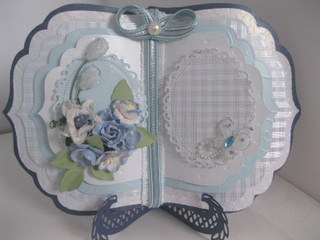 I made mine into a Baby card but yours can be for any occasion and this would look wonderful dressed any way you fancied.
I added in a card stand for the recipient to display it and then finished the look off with a beautiful box that matched the card.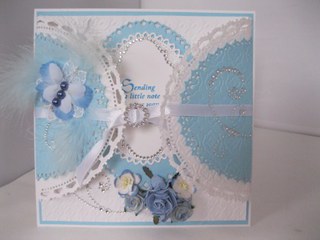 Grand Decorative Ovals was another video in the Spellbinders Series.
Using this set I made three cards that look totally different from each other.
These again are special occasion cards that could be for any thing you wanted.
None of them are hard to do but they do have the "Wow" factor to them ... so I hope you will give them a try.
Don't forget that there are lots of thing going on over at the Blog and if you click the button it will take you straight there so you can join in the fun.
There is another "Give Away" going on at the Blog so add your name to the list and be in with a chance to win some Goodies
I have had to change the rules a little so that you are in with a chance to win.
First you need to become a regular follower. Then you will need to leave me a comment. And please don't add you name more than once because the duplicate will be removed.
No Follow ... No Comment ... Then you will not win.



YouTube Update
I have started to keep you up dated on my YouTube views.

I am always pleased with the comments that people from all over the world leave me.

The numbers are now at 1,681,794 with 5,941 followers. All the comments that you leave me are very much appreciated so please don't stop leaving them for me to read

Facebook is also there for you to click the "Like" button and leave me more of your comments, stories or questions

There is a link to Facebook page on the Blog as well.

Thank You to everyone for all your emails ... I love reading them and I am never too busy to respond.

Please add your email address properly or I won't be able to do that ... so if you have not had a response then maybe I have been unable to send a reply back to you