Counting the Days....
I have just spent the last few weeks making nothing but my Christmas cards.
I wouldn't dare send a bought one to my family so I have had to get going on them, but now I am all Christmased out...
I am looking forward to the pastel colours of Spring and adding the flowers I so love to my cards again.
Have you all got your cards made and ready to send? Hopefully you are organised, and well up to date with everything you need to enjoy the Christmas holiday.
It is always a busy time especailly if you have to cater for a family.
But if you still have lots of cards to make then the best advice I can give you is to ... Keep them Simple!
One idea is to cut different sized triangles and add them to your designs to represent trees.
Using bright colours will give them a modern feel and right on trend this season.
There are more ideas here.

Another alternative is to use beautiful Specialised Card.

You could use Christmassy papers if you have some, or make use of any bright coloured pieces you have left in your scrap box.
It really is an excellent way to use them up and make you feel good about not spending a fortune on yet more papers...
Don't forget if you still want to add flowers to your cards there is a tutorial on making your own Poinsettia flowers.

And at this time of year just adding some glitter can make all the difference.
I have added a page to show you how to dress up your cards with hand written sentiments.
It is an easy way that disguises any writing that you aren't confident about.

Hand Written Text will show you how, and it doesn't matter if your writing isn't neat, with this technique the scruffier the better.
If you add the text to a seperate piece of paper first then it doesn't matter if you make a mistake.
At least you won't have spoiled the whole card.
Just start again until you are happy, and then mat and layer the phrase, and fix the completed piece to the front of your cards.
It's called Damage Limitation!!....Yes!! and we crafters know all about that don't we????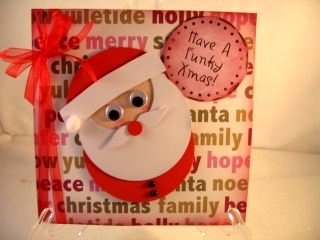 Santa is in the Novelty Cards section and is sure to delght the kids.
You will find others there too that can be adapted to the time of year and they are all easy to do.

In the New Year I will be adding some new card folds for you to try, and more videos to take you step by step through different ideas.
If there is anything that you would particularly like to see covered then please let me know.


The Serif link above takes you the website for this fabulous piece of software.
I have left it in for this months newsletter as it may be something you would like to treat yourself to for Christmas.
It is well worth a look and there are some lovely kits...not just for Christmas but for all year round.
The free membership to "Daisytrail" is well worth a visit, and you can make lots of new friends.
This is a lot of fun to play with.


Resource Links will take you to a stack of information, and each one of the links will open a new window for you to browse that particular website.
More will be added and each one will in some way be related to cardmaking.
It may show you how to colour an image, take a photograph, plan a wedding, baby shower or party, or to make a gift to accompany the card you are going to send.
But all are well worth a visit to give you some ideas you may like to try. And an excellent place to pick up some "Freebies" too.
This link will take you to View all Pages and Topics on the website. Every page is listed to help you find your way around.
As always I am sending a really Special "Thank you" for all your emails and news.
It is lovely to get them and learn about the things that you enjoy doing.
Have a Wonderful Christmas and an even better New Year.
Best wishes
New!

Comments Have your say about what you just read! Leave me a comment in the box below.