Christmas Is On The Way....
We have got Hallowe'en and Bonfire Night out of the way for another year and now it is time to start thinking about those Christmas Cards.
There are some really lovely papers around at this time of the year, and this is when you can add all kinds sparkly Embellishments.

Nothing goes amiss and you imagination can run riot.
Glitters and jewels can all make your cards really special, wether you like to stick to the traditional reds and greens, or you want to try the more modern look with pinks, pale greens, turquoise or lilacs.
In the Novelty Section I have added two more fun cards that are easy to make and sure to delight the younger members of your family.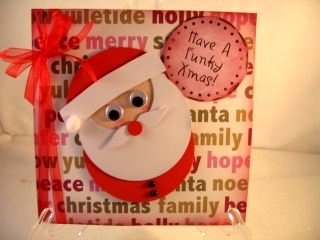 Santa is always welcome and all you need is some red and white card to make him.
Add the glitter to his beard and a few pearls for his buttons and he is all dressed up and ready to go.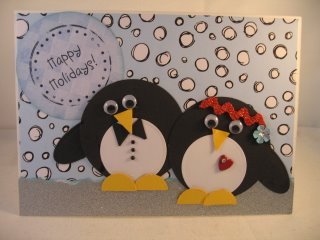 But how about these cute little Penguins sending you a "Happy Holiday" greeting.

Make them from black, white and yellow card, then add one or two to the front of your design for a really cheery way to send the seasons warmest wishes.

In the September newsletter I added a short video to show you how to make some pretty Poinsettia Flowers, and if you had a go at making some of them then hopefully you will have had some fun adding them to your cards.

If you missed it, or are new to card-making-magic then you will find it added again in the link above.

One of the ways I get the papers I use on some of the cards |I make is with Serif's Digital Scrapbook Artist 2 (DSA2)

It is a fabulous piece of software that enables you to use exisitng kits or to design your own.

With the software you get 5 free, pre-loaded scrapbooking kits, plus a £10 voucher for you to purchase more kits of your choice.

There is also the ever useful manual included that will teach you everything that the programme will do.
The Serif link above takes you their website where you can check it out for yourself.
You will also get a free membership to "Daisytrail" which is a friendly online community especially for cardmakers and scrapbookers.
There you can upload your designs to share with like minded people, get some fabulous ideas and make lots of new friends.
And any questions you may need to ask will be answered promtly by those friends who are just waiting to help you.
The whole package is user friendly and so much fun to play with.
Adding names and your own photographs is easy to do and a sure fire way to personalise all your designs fro each individual member of your family.
Have a browse around their website and see what you think...you won't be disappointed.
Treat yourself or someone special to this fabulous gift and join the digital scrapbooking community.
As card-making-magic grows I am making links with other related websites, and I decided to put them all in one place to make it easier for you to find what you need.


Resource Links will take you to a stack of information, and each one of the links will open a new window for you to browse that particular website.
More will be added and each one will in some way be related to cardmaking.
It may show you how to colour an image, take a photograph, plan a wedding, baby shower or party, or to make a gift to accompany the card you are going to send.
But all are well worth a visit to give you some ideas you may like to try.
And remember that you can View all Pages and Topics on the website.
Best wishes
New!

Comments Have your say about what you just read! Leave me a comment in the box below.