Season of Mists ....
Without a doubt September is my favourite month. Don't ask me why ... I really don't know, but there is just something about it that talks to me.
I know the nights are drawing in again and summer is coming to an end, but there is so much to enjoy about Autumn.
For many of you, at the other end of the globe it will be the start of your summer months, so perhaps you enjoy September for other reasons.
I still refuse to think about Christmas yet because to me it seems way too soon to be drawing a line under the sunshine.
And not only that I have still to have my summer holidays.
On the 22nd of this lovely month I will be off to California for three glorious weeks.....and when I return it will be soon enough for me to think about the Jolly Season.
But maybe you have already made a start on your cards, and there is one thing for sure ...there is a lot of Christmas stuff already out there to buy.

My only concession to the festive season for now, is this short video on how to produce your very own
Poinsettia Flowers.

Making lots of them now will give you a head start if, like me, you prefer to wait till nearer the time to get stuck in.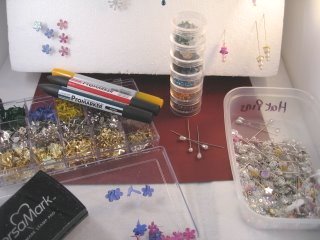 Do you have some plain brads, hat pins or beads, left over from summer themes, that maybe you are just bored with?
Well this is a way to jazz them up and give them a new lease of life.
For some cool ideas take a look at Making Embellishments.

When the next newsletter is due I will be in America....now I may be able to send it to you from the sunny state.
But if I don't get the chance ...because I will be so busy having a good time....then it will the end of October before it is delivered to you.
I am sure you will forgive the lateness, and hopefully I will be able to show you some of the new stuff I wll be bringing back with me. (I know I will spend a fortune on crafting stuff)
I already know of one craft shop that I want to visit and of course there maybe some new technique to learn too.
Ther have been a lot of new cards added to the Novelty section. and all are easy to do with just a few punched or diecut shapes.
Children will love creating or recieving them so why not give them a try.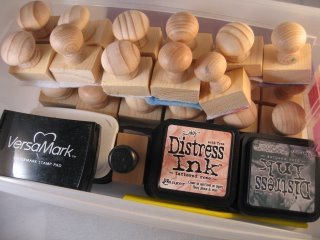 I have shared with you a way to save your self some money, if you like to use lots of different inks to add definition to your projects.

By using a new tool each time, it will keep all your inks in pristine condition, and not ending up muddy because the colours have mixed.

Here is a way to make your very own
Blending tools.

There has been a really good increase to the email I have had from people all over the world.

I want to say "thank you" to everybody for all your news, chat and questions, please keep them coming.

I am only to willing to help wherever I can, and if I don't know the answer I will endeavour to find out for you.

And last but not least...card-making-magic.com has now joined "Facebook" and now I am able to give you the direct link to the page.

Once you get to the page you will see a "like" button alongside the title.

By clicking that button you will help to grow the list of fans to the website.

My very best wishes to you...
New!

Comments Have your say about what you just read! Leave me a comment in the box below.