"Live" TV .. Scary
Hi Everybody,
This is a really quick newsletter this month as I have been so busy creating some lovely samples for the scheduled Create and Craft show at the end of this week.
From the 26th September until the 3rd October I will showing you some of the really pretty new dies from Spellbinders.
This is their brand new Victorian Collection and they are right up my street.
Perfect for anybody who likes to make lacey, frilly, girly cards ... as I do ... and if it's pink then it is double perfect.
Once the shows are on air I will be able to show you some of the cards and I will add them to the blog pages ... Flowers, Ribbons and Pearls

And over the next few weeks I will add more.
I am so excited about these dies and I know you are going to love them too.
The photograph IS NOT one of the new dies as I can't show them yet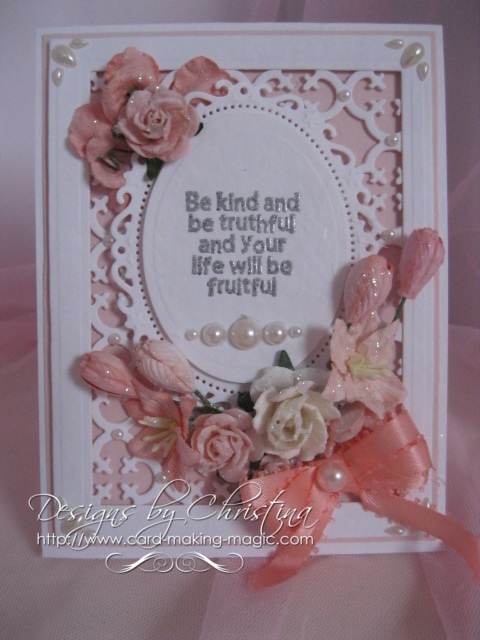 The Friday Freebie is still going well and so if you would like to win one of the cards on offer then you will need to leave me a comment.
But don't forget to come back and check to see if you are the winner as you will only have 48 hours in which to claim the card.
I have not added a "Give Away" this month as I have been so busy and not had time to put something together... but I will once I have the time
---
The Spellbinders Video Tutorials are also going well and many that started off with the early ones have now bought ALL that are available ... and I promise to do more in the next few months. Please be patient with me and I will deliver ...
Each class has a summary of the content and each class is priced at $9.99 (about £5 GBP) but within the class you will be making at least two cards
I hope you will continue to visit both the Blog and the Website on a regular basis and that way you won't miss out on any of the lovely offers that come up.
---

I really enjoy getting all of your comments ... either on the blog or on Facebook and if you email me I will always respond.

But check that you have sent me your correct email address or that I am not in your junk folder ... my email address is ... christina@card-making-magic.com

Click the link to the blog below and take a peek ... and maybe join the group of followers, enter your name for the Give Aways or the Friday Freebie


---


Cards are still for sale in my Etsy Shop but I must admit that I have not added any new ones for a while. Not because I am being lay but I have had a lot of commission cards to do from Etsy and that has also taken up my time


---
Updates ...
YouTube continues to grow and it is now at 4,181,753 views with an amazing 20,961 followers ... so guess who is a happy bunny then ???

If you visit YouTube please let me know what you thought of the video tutorial you have watched in the comments box below it

Facebook is also there for you to click the "Like" button and leave me more of your comments, stories or questions.

And finally ... can I ask that if you do add photos to the Gallery Pages that you identify yourself the same each time you do.

So if you are say Christina Griffiths from Blackpool UK that the next time you add photos you don't become Chris UK ... as that is very confusing.

I may have several Marys, Emilys or Annes and in order for me to add your photos to your page and not someone elses then I need to know exactly who you are.

And I cannot accept entries from Anonymous either ... so please add your name

Thank you in advance xx