Summer Holidays...
Hi Everybody,
Well the sunshine and summer have finally arrived in the UK and very pleasant it is too. We have arrived back home form our train adventure in Italy and I shared the photos daily on the blog.
The scenery was beautiful as we stayed for a few days by the side of Lake Garda at Desenzano. But of course once you return home it doesn't take long to feel like you have never been away.
So here we are with the June newsletter and I can't believe we are half way thought the year already.
Many things have been happening on the blog ... Flowers, Ribbons and Pearls ... the Friday Freebie is going well and already we have passed week thirteen.
Each week I will be giving away one of my cards and so if you would like to win one than all you need to do is leave me a comment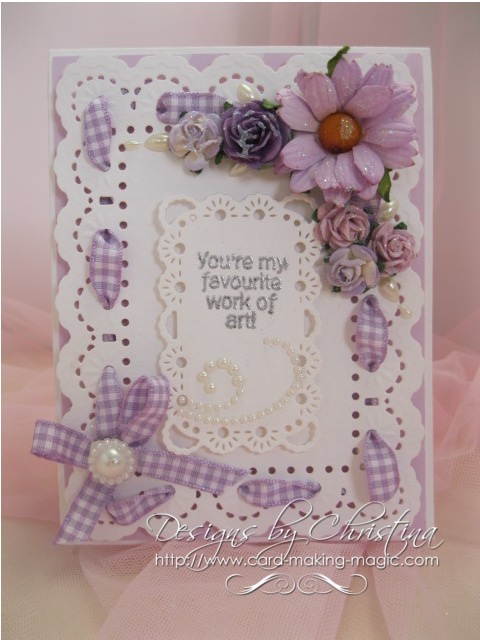 At the end of the day one name will be drawn and the winner of the card will be notified in Saturday mornings blog post
Then you will need to email me your postal address and the card will be on it's way to you.
This is the type of card that is on offer and it will come with an envelope so that you can send it to someone if you wish.



---
Many of the video tutorials that were previously with The Art Studio are now on a special page on Card Making Magic.
Spellbinders Classes are now for sale and more will be added in the future
They are very reasonably priced and will show you how to get the best from your dies.
Once you have bought the class through PayPal you will be taken to the Thank You page and on there you will find the link to the class and a password for you to access it.
Keep the Thank you page and the password safe and private and then you can go back to the page whenever you need too. Spellbinders Tuition

If you previously bought the class with The Art Studio then please don't buy this group as the first four classes are the same ones.
But as The Art Studio was closing down I need to find them a new home.
---

I am still continuing to have a monthly "Give Away" and there have been some really good prizes on offer.

Some of these prizes have been purchased by me but others have been very kindly donated by companies and I will always tell you which they are.

I have also been contacted by ladies who have Crafting Goodies that they no longer need.

They have offered to send me these things to add to future prizes so that others can make use of the items that are surplus to their requirements.

That is a wonderful gesture and I will tell you the ladies and the items as they are added to a "Give Away"

We have had prizes from Wild Orchid Crafts, Crafters Companion, PolkaDoodles and Funky Hand as well as many others and each one has had an excellent response.

The next one will be going out in May and if you wanted to take part in that then you will need to be a follower of the blog

If you visit the blog then please leave me a comment ... especially if you are entering the draw for the Give Away Prize.
---


There are many of my cards for sale in my Etsy Shop and from this I am also getting a lot of requests to make cards for Special occasions ... and that is something I really enjoy doing


---
Updates ...
YouTube continues to grow and is now at ... 3,776,102 views with an amazing 18,715 followers... and I couldn't be happier.

If you visit YouTube please let me know what you thought of the video tutorial you have watched in the comments box below it Facebook is also there for you to click the "Like" button and leave me more of your comments, stories or questions... and that has also notched up over 3500 followers.

A really big Thank You also goes to everyone for all your emails ... I love reading them and I am never too busy to respond.

But please add your email address correctly or I won't be able to do that ... so if you have not had a response then maybe I have been unable to send a reply back to you

And finally ... can I ask that if you do add photos to the Gallery Pages that you identify yourself the same each time you do.

So if you are say Christina Griffiths from Blackpool UK that the next time you add photos you don't become Chris UK ... as that is very confusing.

I may have several Marys, Emilys or Annes and in order for me to add your photos to your page and not someone elses then I need to know exactly who you are.

And I cannot accept entries from Anonymous either ... so please add your name

Thank you in advance xx