Good News ... Bad News ...
Hi Everybody,
I have two particular lots of news to give you this month ... one is good and the other ... isn't !
First with the good news ...
There is a "Give Away" going on at present on my Blog ... Flowers, Ribbons and Pearls for a really super prize.
I am offering you some flowers, pearly "bling", some fine glitter and a pack of hatpins to add to your cards.
The flowers have been very generously donated by Wild Orchid Crafts and I have divided them up so that not one but TWO people can have the chance to win the gift.
So I hope you will pop over there and add your name to the list ... but only once please as duplicates will be removed.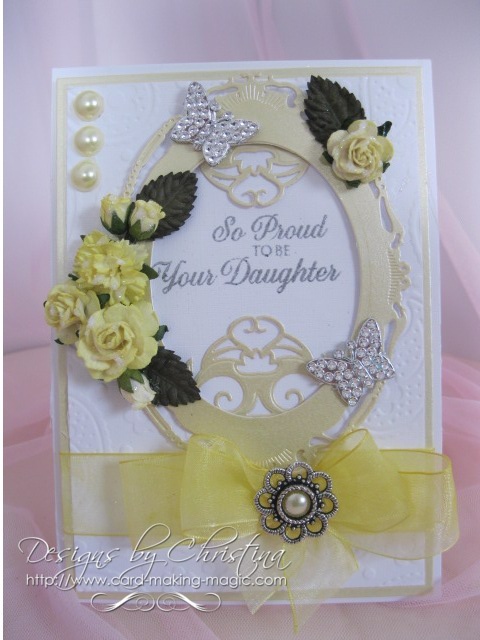 WOC flowers are the ones I use mostly for all my designs and they are so pretty.

Add a little sparkle to them with the glitter and they are truly special.

You can have so much fun using the goodies in this prize and the cards will be really pretty once you have finished them.

The featured card is also one that has been the subject of a video as the ribbon and flowers started off as plain white.

Coloring Ribbons and Flowers

The short video will show you how to color the cheaper option of plain white to any color to match your chosen scheme with just a little Alcohol Ink and some Isopropyl.

And now for the bad news ...

You may have noticed that the button for The Art Studio has been removed and that is because from the end of this month TAS is closing down their website.

This is due to financial reasons on their part and is out of my control.

I took down the badge because I don't want people to go over there now and buy my classes only to find out that the website is no longer operable.

My deepest apologies go to all of you but it is not my doing and there is nothing I can do about the closure.

I am however looking at ways to move my videos so that if you bought them you will still have access to them and hopefully they will still be available for others to purchase them in the future.

Once again I am so sorry for this and I am just as disappointed as you.

But I do stress that it is The Art Studio that is closing down and NOT Card Making Magic or Flowers, Ribbons and Pearls.
---


If you visit the blog then please leave me a comment ... especially if you are entering the draw for the Give Away Prize.

My aim this year is to make both of those grow and so please become a follower and leave me those all important comments

I have been adding many of the cards that I feature on the blog pages in Etsy. They are very reasonably priced and all made with the best quality materials and this is another area that I am hoping will grow.

Please take the time to visit and should you buy something from me then please also leave a review of the card and the service you received.

The link opens a new window to my Etsy Shop


YouTube Update
This continues to grow and is now at ... 3,393,454 views with an amazing 16,646 followers... and I couldn't be happier.

If you visit YouTube please let me know what you thought of the video tutorial

Facebook is also there for you to click the "Like" button and leave me more of your comments, stories or questions... and that has also notched up over 3500 followers.

A really big Thank You also goes to everyone for all your emails ... I love reading them and I am never too busy to respond.

But please add your email address correctly or I won't be able to do that ... so if you have not had a response then maybe I have been unable to send a reply back to you

And finally ... can I ask that if you do add photos to the Gallery Pages that you identify yourself the same each time you do.

So if you are say Christina Griffiths from Blackpool UK that the next time you add photos you don't become Chris UK ... as that is very confusing.

I may have several Marys, Emilys or Annes and in order for me to add your photos to your page and not someone elses then I need to know exactly who you are.

And I cannot accept entries from Anonymous either ... so please add your name

Thank you in advance xx