Big Decisions...
Hi Everybody,
One way or another this has been a very busy month for me ..... at home, work and the website.
There never seem to be enough hours in the day. I have continued with my job outside the home and for the last three years on a part time basis.
I have had to do a lot of thinking over the last few weeks. Taking all things into consideration I have made the decision to retire from work, and on the 24th October I handed in my resignation from a company I have been with for the best part of 25 years.
With annual leave that is owed to me my last working say will be the 21st November .... and then I am FREE!!! YaaaaaaY and I can't wait.
I will then be able to work full time on my lovely website and I have lots of new ideas that I am waiting to add.
I also get many requests for various projects and now I will be able to do so much more.
I have more videos in the side lines too and I will now have the time to put those together as well.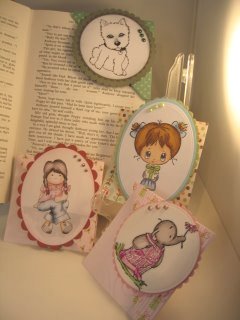 Several videos have been added in the last month and creating this small gift, that you can give out to friends for any reason that you can think of, is just one of them.

Maybe it's a "Just Because....." kind of gift but one that I am sure would please any recipient.

The Corner Bookmark is in both video and written format for whichever way you prefer.


Many of us have collections of Distress Inks and we use them to add an aged look to our cards.
But do you know they can be used for so much more.
You can create the most unique backing papers.
I often buy my flowers and ribbons in a plain white and then match them to my project, using this water based product to simply colour them in.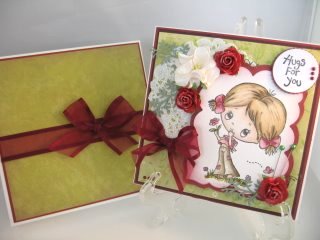 But many people don't realise that they can also be used to produce the most remarkable water coloured effects.

So to show the versatility of these inks I have added a series of three video tutorials on colouring.

I have covered skin tones, hair and clothes to produce a very pretty card that would be suitable for any occasion.

I have included the link to the Skin Tones video and on that page you will find the links to the others in the series.

It is a very easy medium to work with and I hope you will enjoy the videos.

If there is anything that you would particularly like to see please let me know and if I can cover it for you then it will be my pleasure to do it.
Special Request
Many of you send in photos to the Gallery Page and for that I am extremely gratefull to you all, but I need you to be more explicit with your descriptions.

Lots of photos are being added with just one line and it tells other visitors nothing about the card.

Then I get emails asking me about it, and of course I can't tell them becuase I haven't made the card.

So my Special Request is that PLEASE when you add a photo can you also add

What materials you used
Any techniques you used (i.e. embossing, colouring etc)
How you put the card together
What occasion it was for


I don't expect you to spend a lot of time doing this but at least it will add some information on the card featured more than the one liners.

It is not my intention to hurt any ones feelings about this but it would save a lot of work if you would please do this for me.

Thank you in advance for your effort



New!

Comments Have your say about what you just read! Leave me a comment in the box below.