A New Arrival...
Hi Everybody,
Well what a mix of weather we have been having of late. It has been warm sunshine one day and really cold the next.
My summer clothes are getting dizzy as they don't know if they are staying out or going away.
And of course many of us are now gearing up to the Christmas season.
I have made a start on my cards, early this year, and I have added some of them to
Facebook

Some of them are made from the winter collection of stamps from "Lili of the Valley", that I bought a the GNPE show in Harogate.
They are a delight to work with and can be coloured in with your prefered medium to great effect.
I have tried water colouring some of mine this year and it is a method I really enjoy doing. The colours are soft and they compliment the images really well.
But I have had another reason to celebrate this week and it has taken precedence over a lot of things for me.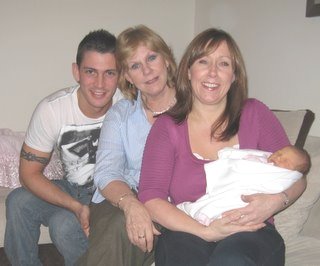 Earlier this year I told you I was going to be Great Grandmother.

Many of you sent me lovely emails telling me of your own great grandchildren and how much pleasure they give to you.

Well the new arrival is here and her name is Isabella.

She was born right on time on the 16th October, and weighed in at 6lbs 6ozs.

The picture is of the four generations to my family and I am in the middle of my grandson and daughter.

The proud grandmother is holding the baby and laughs when she says she wants to be called "Aunty Vickie" as she is too young to a granny.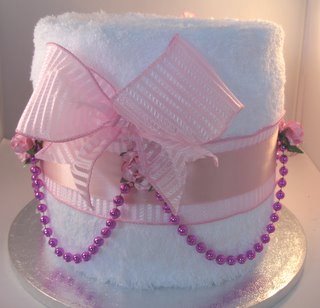 The idea for a gift for Isabella was brought to mind when a lady who visits the website asked if she could add some photos of her other hobby to the Gallery.
I was so impressed with her idea that I made one for myself and I was really pleased with the result from Lindas'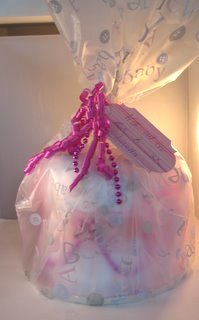 I asked her to write up all the step by step instructions and I have added a complete page so that anybody that wanted to make this gift would know how to do it.

All you need to do is follow Lindas' instructions fully and you too will get excellent results.

Give it a try and see what you come up with, and as Linda says it can be adapted for any occasion.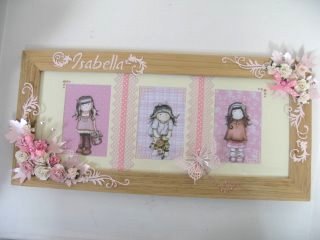 Another gift I made was this pretty picture frame.
Her daddy says says he will put it in her nursery when he works out how a drill works....(DIY is not his strong point)
The images are from the "Pretty Sweet" CD from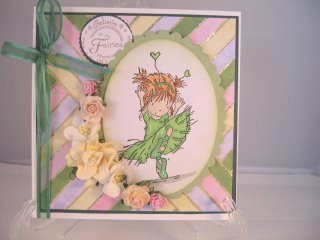 Last month I told you about the Mosaic Card and stupidly forgot to change the link to that page.

Thank you to those of you who wrote and told me what I had done but once the newsletter had gone it was too late.

So this month I have included it again and this time I have corrected the link.

I hope you will enjoy the tutorial and make this card for your self.
New!

Comments Have your say about what you just read! Leave me a comment in the box below.