Baby's Message
by Frances Martin
(Dunoon, Argyll, Scotland)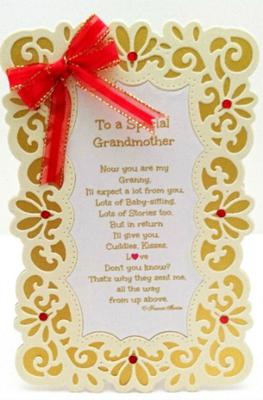 To A Special Grandmother
This is my first attempt at using dies. Under the expert guidance of Christina's video "Spellbinders Heirloom Rectangles", with only a slight modification, I made the following cards.

Firstly, I took die number 4 i.e. largest die (counting smallest die as 1) and cut 2 pieces of 250 gsm card stock, one

I used GOLD for both, for the Grandmother card, but varied the colours, including tartan, for the others.

Following the video, for portrait style, I took back of card, scored it about half an inch from the top and bent back slightly. Put top and bottom cards to the side for assembly later.

I then took dies 2, 3 and 4, nested them and taped them together, placed on CREAM card and cut to form decorative topper for front of card.

Next I flat glued this to the front base card, before gluing the front and back together at the hinge.

Next, using Microsoft Word for my verse and Congratulations sentiment, printed them on shiny white printer paper, placed die number 3 on top of poem, making sure verse was within the cutting lines and cut.

This fitted exactly into the space left in the topper and therefore I flat glued it into place. I then used die number 1 on top of sentiment and cut to use for inside of card

I finished the card by adding a double bow, "Glitter Girls" sparkle glitter dots and sentiment to inside.

Size of finished card 6.5" x 4.5" approx. Hope you liked it and my variations. You will notice that I changed the verse slightly for each recipient.

I have been making cards for family for some time now, but when a friend asked me to write a poem and make a card for her sister's new grandchild, she was so pleased that she encouraged me to sell them on Etsy.

Thankfully, I discovered Christina's website and video tutorials, which I love and adore. They are a joy to watch, so well explained in every detail with no questions left unanswered.

I have learnt so much and through this realised that the Heirloom dies gave me a platform to use my poetry on the front of my cards, instead of being hidden inside.

I am so grateful to Christina for her generosity of sharing, teaching and together with my friend for giving me the confidence to put my work out there.

I do hope that this will encourage others to write their own verses to complement their cards.

Christina says ...

Thanks you so much for adding all these beautiful cards to my website gallery. You have made them really well and if this is your first attempt at die cutting then well done you.

I hope you will add more as you make them and I am not surprised that people think your cards are lovely.

Thanks also for your kind words and I am happy to think that I have helped you in some small way.