New Collection
Hi Everybody
Here we are again on the run up to another Christmas and it only seems a few months since the last one. I don't know where the time goes and why it goes so quickly.
But I hope this newsletter finds you all managing to cope with whatever life has thrown at you. And I know that some of you have had really hard times to deal with.
I count my blessings everyday that I don't have floods and hurricanes to deal with, and my house is safe and warm for me and my pets.
I have a car and a job and I don't have many worries to bother me each day.
I have still been kept busy with new designs and collections that I hope you are enjoying and there is a lot more to come as the new year progresses.
The newest ones are very feminine and lacy and make the most gorgeous cards. There are eight different sizes and shapes in this collection, from Slimline to A5
I have made lots of different cards using these and you can find all the tutorials for them on my YouTubeChannel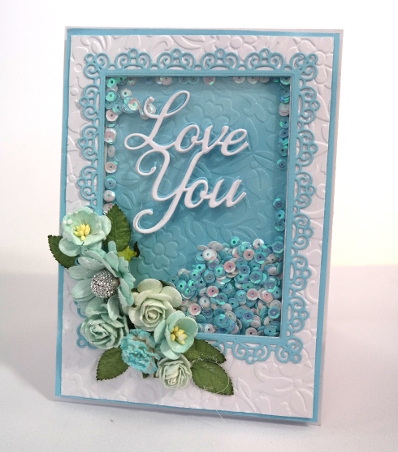 I really hope you enjoy them, none of them are too long, just enough time for a brew while you relax.
If you enjoy them then please give the video the "Thumbs Up"
That is a big help to me as it lets YouTube know that you enjoy this kind of video.
Click the bell icon to the "Like" Box and then you will be notified whenever I bring out a new video.
Please also consider subscribing to my YouTube channel and join the ever growing band of followers.
And don't forget to leave me a comment if you visit either YouTube or my blog
The links to the products I use are listed under the video and some of them are affiliate links, which means I will get a small commission if you buy through these links at no extra cost to you
I run a Friday Freebie each week on my Blog, Flowers, Ribbons & Pearls, and will consist of a magazine and the gift that comes with it.
This could be stamps, dies, stencil or an embossing folder or any combination of things, but is a quality item that is well worth winning.
I am happy to send the pack to the winner at my expense each week and it doesn't matter if you have won before so why not pop over there and give it a go
All you need to do is leave me a comment ... on the blog page and NOT on Facebook
But be sure to come back over the weekend and check to see if it is your name that is shown as I have no way to contact you if you are the winner
I cannot chase you up... and you only have 72 hours in which to claim it and if you don't you will lose it to someone else
Thank you for taking the time to read this newsletter and I hope you will continue to visit my pages regularly
Much Love
Christina xx