A fabulous 2018
Hi Everybody,
We may be into January but I wish you all a fabulous New Year. May there be peace all over the world and that all your dreams come true
If you were a regular visitor throughout 2017 than I hope you will stay with me for the years to come and Thank you for all your support in the past
In the last Newsletter I told you about my exciting news of launching my own set of dies and stamps ... but I forgot to tell you how to get them !!!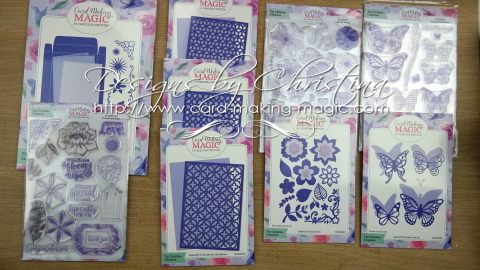 So now that I have taken off the Dunces Hat here is the information for you should you wish to purchase any of them.

The photo above is the Original collection (Wave 1) and that launched on the 20th October 2017

This set has the Complete Card & Box Die Set so that you can make 5x7 cards that will fit into there own matching box.

You would need the larger die cutting machine for the box part but all the other dies will fit into the smaller machines

There are Butterflies and Flowers that have matching stamps to make them come to life even more.

And beautiful Trellis panels to add that special touch to your card and box. And so many ways in which everything can be used.

They are exclusive to Craft Stash and the name is The " Christina Collection"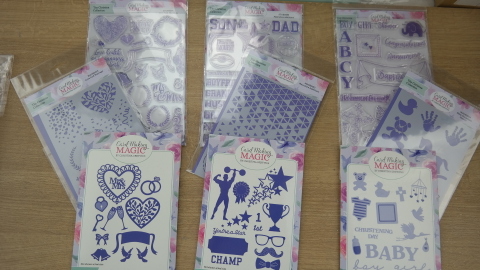 The Additions (2nd Wave) was launched on the 17th November and gave you the option to theme your cards.

There are Baby Stamps, Dies and Stencils along with some Masculine Additions for the men in your life as well as Love & Marriage for those Special Occasions.

And of course they all play nicely with the Original sets and the Card & Box die set for you to add your finished cards too
But now I am so excited to be able to tell you that there are Nesting Dies (3rd Wave) and these are really beautiful to add layers to all your designs.

They will be available to but from the 12th January at Craft Stash

We have Nesting Rectangle, Pennants and Ovals and there are a lot of dies in each set so good value for money.

I am going to be adding lots of videos on each of these dies and including them with the Original and Additions Sets

You will find all my tutorials on my YouTube Channel and there is a "Christina Collection" Playlist where I have added all the video using the collection and will be adding a lot more

If you enjoy the videos then please give it the "Thumbs Up" that lets YouTube know that you enjoy this kind of video

So just a little about the Card Making Gallery If you buy anything from the collection then I would love to see it so please consider adding your photos to the Gallery

You will need to add some information too when you add photos. If they are just a one line descriptions I am sorry but I cannot accept them.

The reason is because I get emails from people asking me how it was done and of course I don't know because I haven't made it. You may know how you made "Mums Birthday Card ..." but no one else does

You don't need to write an essay but some basic details would help. Materials used and any dies that you have used too.

Please tell us something about yourself and how you made the card, and remember that a one line description tells visitors nothing....



On the blog each week I have a Friday Freebie, and at the moment I am adding it the gift that came with the magazine and was used to make the card

That is your chance to win one of the cards I make and all you need to do is leave me a comment ... to the blog page and NOT on Facebook

It doesn't matter if you have won a card previously or even where you live .. I am happy to send the card to you anywhere at my expense.

You will need to come back the next morning to see if it is you as I have no way to contact you if you win

I cannot chase you up... and you only have 72 hours in which to claim it and if you don't you will lose it to someone else

I have added a Winners Page for you to check for your name and also past winners.
---
Updates ...
YouTube followers continue to rise and I really appreciate all the comments. I know have topped 50,000 followers who have looked at my videos almost TEN MILLION times and I would like to thank all who have left me wonderful comments

Please become a subscriber so that you will get notification whenever I add a new tutorial and they are being added three or four each week

Thank you as always for your support with both the website and the blog