Autumn is Here ...
Hi Everybody,
Here we are on the run up to Christmas and it seems to come round faster each year.... or is it just me getting older
I hope that whatever you are planning this year will go well for you and that the season is a peaceful one for everybody.
I must apologise for not sending out the newsletter earlier but I have been really busy with videos promoting the magazine free gift.
I am happy to say that these videos are going really well and many of you have either renewed or started a subscription to get them
The magazines are available in newsagents, supermarkets and craft shops as well as from WHSmith.
You can also buy them or subscribe to one direct from Moremags There is always good information and instructions in any of the mags so choose the one that suits your particular hobby and relax with a cuppa as you browse the pages.
The free gifts are amazing and a lot can be done with them. Take for instance the one that is with Papercraft Essentials 140 this month.
It is primarily a Christmas collection of stamps with some really cute characters that can be used in lots of ways.
But I decided to make a Birthday card from the bears and stack them all together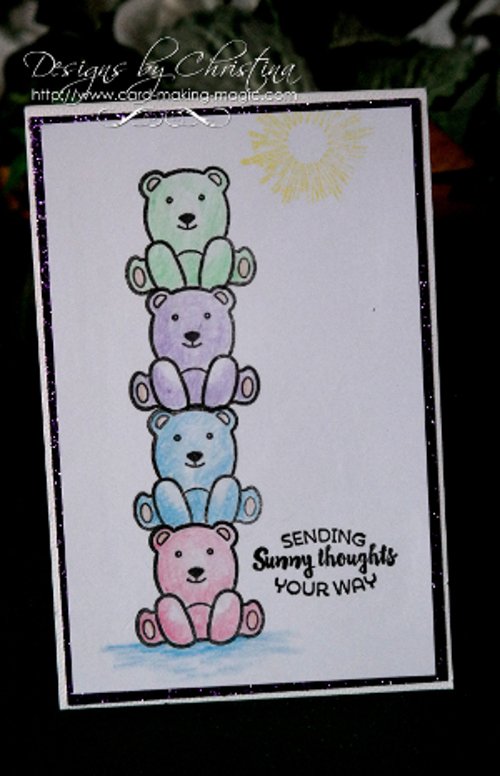 I was really pleased with the result and it would be a good one for children on their special day Pop over to my blog to see more ideas on this gifts and there are lots more on the videos on my YouTube Channel for you to check them out.
If you enjoy the videos then please give it the "Thumbs Up" that lets YouTube know that you enjoy this kind of video
Please continue to add your card makes and projects to the Card Making Gallery so that every one can see what you have done.
But please tell us something about how you made the card as one line tells visitors nothing.... And I cannot answer the questions as I don't know how you made it or what you used.

Have you entered for the Friday Freebie yet? That is your chance to win one of the cards I make each week, so don't forget to add your comment to the blog page and NOT on Facebook
It doesn't matter if you have won a card previously or even where you live .. I am happy to send the card to you anywhere at my expense.
You will need to come back the next morning to see if it is you as I have no way to contact you if you win
I cannot chase you up... and you only have 72 hours in which to claim it.
I have added a Winners Page for you to check for your name and also past winners. Any cards that are not claimed will be offered to someone else at a later date.
---
Updates ...
YouTube followers continue to rise and I really appreciate all the comments

Please become a subscriber so that you will get notification whenever I add a new tutorial and as I add them each week usually on a Thurdsay

Thank you as always for your support with both the website and the blog