Another Year Begins ...
Hi Everybody,
Well here we are in 2015 and the time is flying by already. I hope this is a good year for everyone and that you have all the happiness and health that you deserve
Last year was a really exciting year for me and this one promises to be the same ... and very busy
My work for Spellbinders is progressing and I started the New Year off by being on Create and Craft again last week
There are some beautiful new collections from Spellbinders and some real treats coming for the future
I will off course be adding ideas hints and tips for those that don't have die templates to use so I do hope that you will stay with me to find out what is new
Just a little bit of news to tell you some of the things happening on the blog ...
Flowers, Ribbons and Pearls

Since I joined Spellbinders as there UK Ambassador I have been working with the others that were also chosen to have that title
There are five of us altogether and we have decided to get together and have our very own Blog Hop
So over the weekend of the 24th January you will be able to hop form each one of us and see the different styles that each one of us creates
We will be using the Victorian Collection for our designs and each one will be our own individual styles. You will visit UK twice, Netherlands, Australia and Germany and I hope you will enjoy the tour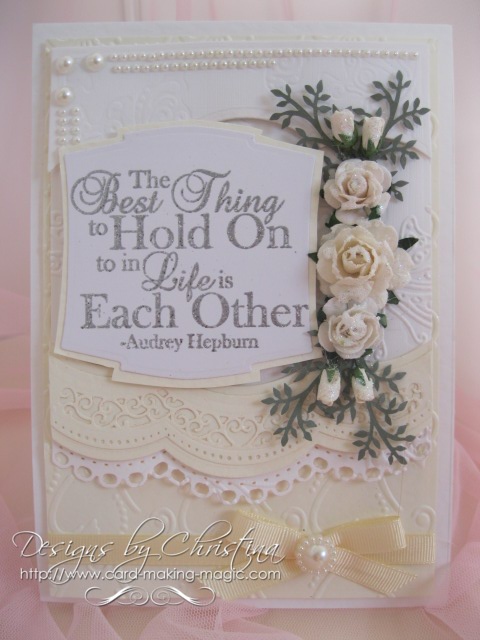 The Friday Freebie is still going strong and I have given away 42 cards since I started this idea. They have gone all over the world. Some of the winners have used the card but many people have simply kept them and framed them as a keepsake
That is such a lovely idea and a great honour to me that you like them enough to keep them.
If you would like to win one of the cards on offer then you will need to leave me a comment and maybe become a follower too. And even if you have won one before you can still add your name again if you like the card on offer
But you will need to come back and check to see if you are the winner as you will only have 48 hours in which to claim the card
---

I have added in several new Video Tutorials over the last few weeks that cover a variety of subjects. All are short but well worth watching for a little while with a nice cuppa

Some are on tips to help you get good results and others will give you a project to complete from stuff you may just throw away.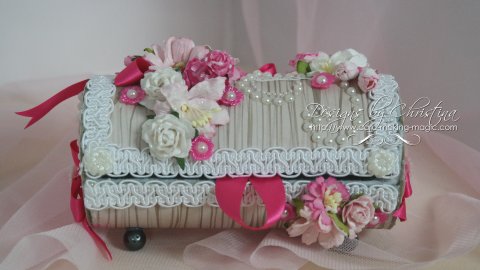 Video Tutorials

I am so happy that you continue to visit both the Blog and the Website on a regular basis and that you leave me such lovely comments

I do try to answer everyone but please take into account that I get a lot of emails and sometimes I may miss one of them
---

I will still be doing little "Give Aways" on the blog from time to time so I hope you will keep a look out for them.

And I will be back on C&C at the beginning of February and will give the exact dates and times on the Blog once I know them
---
Updates ...
YouTube continues to grow and it is now at 4,629,994 views with an amazing 23,413 followers ... and the numbers continue to grow each month

If you visit YouTube please let me know what you thought of the video tutorial you have watched in the comments box below it

Facebook is also there for you to click the "Like" button and leave me more of your comments, stories or questions.

And finally ... can I ask that if you do add photos to the Gallery Pages that you identify yourself the same each time you do.

So if you are say Christina Griffiths from Blackpool UK that the next time you add photos you don't become Chris UK ... as that is very confusing.

I may have several Marys, Emilys or Annes and in order for me to add your photos to the correct page and not someone elses then I need to know exactly who you are

And I cannot accept entries from Anonymous either ... so please add your name

Thank you in advance xx