Another Year ...
Hi Everybody,
I have been sitting around doing nothing in particular, just enjoying a moment of relaxation, when I suddenly realised that I had not done my Newsletter for this month.
So my apologies for this really short one but I will make it up to you with the next one ... I promise.
Well here we are in 2014 and doesn't Christmas seem a long time ago now. I hope this New Year brings you all the nice things that you would like ... especially good health and happiness.
Every thing has gone well for me in the first few weeks and the number of visitors to the website and the blog keep on growing.
I have lots of new things planned for both in the coming months as well as lots more video tutorials. I have been getting emails from people asking for specific things to be filmed and I am happy to oblige ... but you will need to give me time to do them.
I have my classes with The Art Studio to cover and that is most important. In fact there is a new Spellbinders class coming soon. I will add the link to the class to the blog when it is released.
But if there is something that you would particularly like to see then if I have the materials to do it I will.
So pop over to Flowers, Ribbons and Pearls regularly to keep up to date.
On the blog there will be more "Give Aways" so I hope you will join in with that part too.
Several companies are offering to sponsor items for the Give Aways so there should be some really worthwhile prizes again this year.
---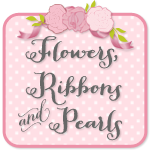 Please leave me a comment and then I know you have visited.
Many of the cards that I feature on the blog pages are now being offered for sale and are going very quickly, in my Etsy Shop


YouTube Update
Just before Christmas YouTube was ready to roll over the 3 Million mark... and it achieved that on Christmas Eve.

But since then it has sky rocketed and it now stands at ...

3,125,807 views with an amazing 15,044 followers.

Facebook is also there for you to click the "Like" button and leave me more of your comments, stories or questions... and that has also notched up over 3000 followers.

A really big Thank You also goes to everyone for all your emails ... I love reading them and I am never too busy to respond.

But please add your email address correctly or I won't be able to do that ... so if you have not had a response then maybe I have been unable to send a reply back to you

Finally ... which ever part of the world you live in and however you celebrate this time I would like to wish you all a very Merry Christmas ... Happy Holiday ... Seasons Greetings