Birthday Celebrations...
Yesterday the 12th March was the fourth Birthday of Card Making Magic and what a long way it has come since it's birth.
I am as excited about it now as I was when it was first conceived and I love it more and more each year.
New things are added to the pages on a regular basis and the number of visitors keeps growing each month.
The latest addition of "My Shop" is doing very well and a steady stream of orders keep popping into my inbox ... all keeps me busy and I don't know how I ever found the time to go out to work.
I have never been busier than I am now since I made the decision to give up going out to work.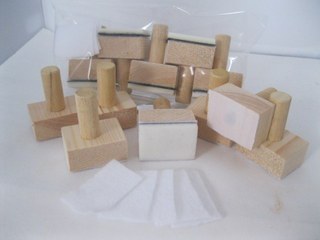 The Blending tools continue to be a real favorite with many Crafters and I have sent them all over the world.

The response has been amazing and I thank all of you who have bought them and the other items that have been added to MY SHOP



Another item I have added to My Shop came from an email request that I had to add the die cuts for people to create the Book Card that used the Grand Labels 4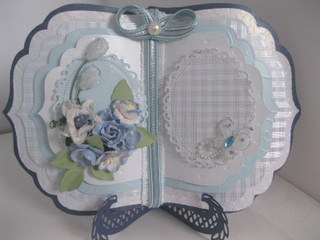 And so I have put together a kit that includes all the six sizes of the dies and two of the Floral Oval panels for you to add a sentiment and some flowers to each side.
I have also included a card stand so that it can be displayed by the recipient.
Nine piece to the kit altogether and some of the pages have been embossed as well


Have you visited the Blog ... Flowers, Ribbons and Pearls ... you are missing some treats if you haven't.


There is another "Give Away" going on and this one is for the websites 4th Birthday.
You can add your name for the chance to win some Spectrum Noir pens.
You will need to become a regular follower
Then you will need to leave me a comment
And please don't add you name more than once because the duplicate will be removed

No Follow ... No Comment ... Then you will not win.



YouTube Update
I have started to keep you up dated on my YouTube views... and I can't believe how this grows each time I look at it.

The comments I get from people from all over the world are so kind and supportive... makes me feel very grateful for all the good things in my life.

The numbers are now at 1,842,851 with 6,905 followers.

Facebook is also there for you to click the "Like" button and leave me more of your comments, stories or questions.

I will answer as many as I can and if I don't know the answer I will surely try to find it out for you.

Thank You to everyone for all your emails ... I love reading them and I am never too busy to respond.

But please add your email address correctly or I won't be able to do that ... so if you have not had a response then maybe I have been unable to send a reply back to you