Happy New Year for 2012
Hi Everybody,
I hope you all had a wonderful Christmas and my first words are to wish everybody a really good 2012.
May you get all the good things in life that you wish for yourself and others.
I want to share with you some good news that I had to start off my new year with.
Last year I entered a competition for "Cardmaker of the Year 2011" and I had to submit three entires.
I had to say what products I had used and how I had made the cards, and any special techniques that had been done.
My entries were lucky enough to be chosen as a runner up and my prize was £200 worth of crafting goodies.
I was so pleased to get the email and I couldn't wait to get my prizes.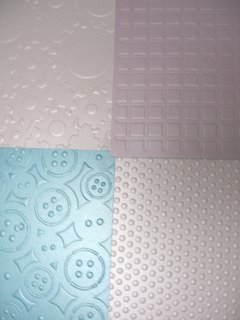 One of them was some Mica Masks to emboss the background to my cards and I was very happy with the reuslts.

So happy in fact that I wrote a page about them and this is were you will find the information on Mica Masks

They will create some texture to your cards and give them a really pretty finish much the same as embossing folders.

They will go through all different makes of die cutter so you shouldn't have any problems using them in yours.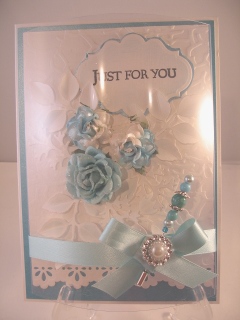 In December I added seven new videos to the Tutorials and this one is beautiful Acetate Front Card
I really love the result and I know you won't be dissapointed if you give this a try.
It would be an excellent choice for any Special Occasion

Acetate Front Card Tutorial is easy to follow and you will be able to produce this beautiful card in no time at all with very little effort.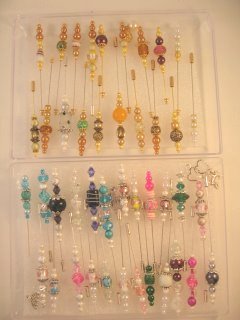 Further to my playing around with the beads, that I told you about last month, I have added a tutorial on Decorating Hatpins to show you how to create some really pretty embellishments to add to your cards.
Or you could do as I did and just give them as a small gift for the recipient to wear as a Lapel Pin on their favourite jacket.


I have lots more goodies lined up for thc coming months and I am sure they will appeal to all levels of card maker.
All the emails and comments that I am getting tell me that I am hitting the right spot for many of you at whatever level of card making you are at.... from beginners to the more seasoned cardmaker with a few years under your belts.

As always it is lovely to get the news and chat that many of you send to me and I will always respond.
I will also try to answer any of the questions that are sent in and if I don't know the answer then I will do my very best to find out for you.
Thank you ....
... to my request for more information on the photographs that are being added to the Gallery Page.

The response has been brilliant and others are now getting much more info from you the card creator.

Please keep on adding ...

What materials you used
What size the card is
Any techniques you used (i.e. embossing, colouring etc)
How you put the card together
What occasion it was for


So all that is left to say is thank you so much for all your support and I hope you will continue to visit the website in the future.
New!

Comments Have your say about what you just read! Leave me a comment in the box below.