Some New Video Tutorials
Hi Everybody,
I was just about to comment on the beautiful sunshine we have been having, and as I started to write the heavens have opened and it is now pouring down.
We can't complain though as it has been wonderful for weeks here in the UK. It makes everything look so much better in the sunshine and everybody is much more cheerful.
We managed to get a BBQ in overe the Easter break and it was lovely having a family get together. We giggled about the silliest of things and had a really good time.
In the last couple of weeks I have been told that I am going to be a Great Grandmother in October.
My daughter, whose name is Victoria, says she's not old enough to be a Gran and if she can't be called Auntie Vickie then she will have the title Nanny V.
So I will have to make something really special for my first Great Grandchild.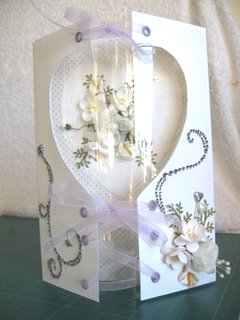 The Wedding season is upon us again and this is when all the "Bling" can be added to your creations.
Here is a reminder, for new visitors to the website, of the lovely
Bow Front Card

This very special card can be made to look really stunning.
Use the bridal colurs and dress it up with gemstones and flowers.
It always gets a comment whenever I make it.


Over the last few weeks I have added three new videos to the
This makes a grand totoal of 27 videos, that cover a variety of different techniques, and more are planned for the future.
I have been asked in many emails, to cover vidoes for some of the written card instructions that are already on the website, and so that is what I have done.
Many people prefer to see what they are doing, and because of the extended time that YouTube have now given me I have started to show a complete card being made.
I hope that this helps and gives you some ideas for your cards.
This Waterfall Card is one that has been added.
A lot of people said they had seen these instructions elsewhere and couldn't follow them.
So I have tried to make them really clear and the card itself is one of those that will get the comments from your recipients.

This tutorial will show you how to achieve this result.
Another addition is the Penny Slider Card.

A fun card to give, especailly to children who like to roll the pennies back and forth.
None of these are hard to do and the videos are not long.
Each has the written instructions too if that is the way you like to learn.


I have added an automatic feed to the Card Making Magic Facebook page.
If you have added any of your own cards to the Gallery page on the website then you will also see them added to
Facebook.

If you are a new visitor to that page then would you please click the "Like" button and help to grow the fan club for the website.
And please will you continue to add your photos to the Gallery

and leave your comments there on the cards that others have added too.
Sometimes I get emails asking me about the cards that are added.
Where a particular image is from, what technique was used or how the card was made, and of course if I haven't made it I don't know the answer.
All I can do is reply and advise that they ask the question to the cardmaker, under the photo of the particular card they want to know about.
Then it is over to you, as the cardmaker. It would be good if you could answer the query about your card and give the fullest possible answer that you can.
After all you are proud of the card you have made, and it is an honour to have others think your card is so good that they want to make one the same.
Tell them the stamp you used or if it was a digital "freebie" then tell them where you got it.
Others may not be able to get the exact same thing, but they may get something very similar in their country.

To the many people enquiring about the book I am planning for the website .....well it is in the pipeline and I am working on it ..... but it is a slow process, and a very steep learning curve.

The website continues to grow and is now being viewed as far away as India, Thailand, Malaysia, China and Russia.
I am so happy with the progress it makes, and it is all down to you my visitors who have made it such a success. Please keep on visiting and sending me your news and photos, to keep it growing even more. Thanks as always for your emails.
It is a pleasure to get them and I will always respond to those that are sent directly to me ... christina@card-making-magic.com
I hope you will come back and visit often and continue to enjoy my website....it is created with lots of love just for you.


Best wishes


New!

Comments Have your say about what you just read! Leave me a comment in the box below.