Moving Forward
Hi Everybody,
2018 ended on a very sad note for me when my husband Griff died suddenly in November. It was a great shock to both our families but we have all been there to support each other throughout this very sad time.
But the world keeps turning and other people carry on because nothing has changed for them ... even though it has for me.
The company that I produce some of my videos for, and who have helped me to launch my own collection, have deadlines to meet and so 2019 is the time for me to keep moving forward with them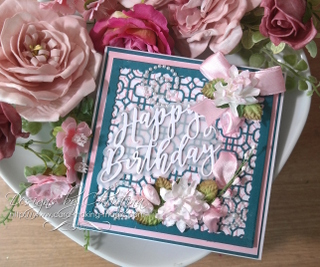 This cards is created from the 6x6 Collection and is very pretty in Teal & Pink.
It was featured on my blog and is also in a video Teal & Pink Card
There have been lots of new additions to The " Christina Collection"
in the form of Alphabets and Numbers as well as Border Dies and Ribbon Threaders.
We have also introduced a new size for the Card & Box Sets and that is the A2 which is popular in United States.
All are selling out quickly on the Craft Stash Website but if you add your name and email address they will inform you when they are back in stock

Another new feature is to include the Trellis Dies and flowers to the three box sizes to help you make everything you need from one set.
All my video tutorials can be found on my YouTube Channel and there is a "Christina Collection" Playlist where I have added all the videos using my collection.
If you enjoy them then please give it the "Thumbs Up" to let YouTube know that you enjoy this kind of video

Don't forget to add the photos of any of your projects to the Card Making Gallery

You will need to add some information too when you add photos. If they are just a one line descriptions I am sorry but it won't be accepted
The reason is because I get emails from people asking me how it was done and of course I don't know because I haven't made it. You may know how you made "Mums Birthday Card ..." but no one else does
You don't need to write an essay but some basic details would help. Materials used and any dies that you have used too.
Please tell us something about yourself and how you made the card, and remember that a one line description tells visitors nothing....

On my blog each week Flowers, Ribbons and Pearls I have a Friday Freebie, and at the moment I am adding in the gift that came with the magazine and was used to make the card.
The photo gives you some idea of the prize on offer but of course it will differ each week
That is your chance to win one of the cards I make and all you need to do is leave me a comment ... to the blog page and NOT on Facebook
It doesn't matter if you have won a card previously or even where you live .. I am happy to send the card to you anywhere at my expense.
You will need to come back the next morning to see if it is you as I have no way to contact you if you are the winner
I cannot chase you up... and you only have 72 hours in which to claim it and if you don't you will lose it to someone else
I have added a Winners Page for you to check for your name and also past winners and you will find that in the side bar on the left.
---
Updates ...
YouTube followers continue to rise and I really appreciate all the comments. I now have almost 60,000 followers who have looked at my videos over Eleven MILLION times and I would like to thank all who have left me wonderful comments

Please become a subscriber so that you will get notification whenever I add a new tutorial.

Thank you as always for your support with both the website and the blog