Easy and fun...
A Folded Paper Shirt.
This folded paper shirt is a fun project to add to your cards... or as a stand alone invitation.

Search
Custom Search
Make yourself a wardrobe full of paper shirts...

Add them to your cards as toppers or use them as a card by themselves, with your chosen sentiment inside.

And to find out how to make them watch this Video Tutorial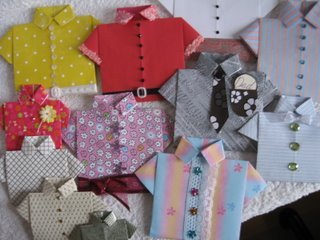 Or if you prefer then you can read the Written Instructions here.

Then come back to this page for some ideas on how to decorate the finished shirt, and of course only your imagination will limit what you do with yours.

It is an easy papercraft to master, and one you can teach the children to accomplish too.

Get them to make some for their own parties, to give out to their friends.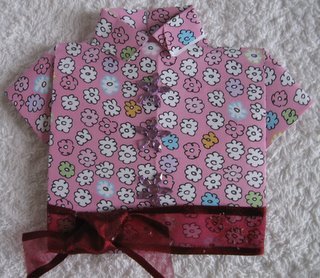 Make a pretty flowery one as a blouse, add an organza ribbon around the waist and some flower gemstones as buttons.

Make the sentiment inside for a birthday, thank you card or just to say "Thinking of you"...awwww!

Here's one to make for your Dads Birthday or Fathers Day.

Add a little pocket and tuck the label inside and put the birthday sentiment inside.

I drew out the shape of the tie and pocket freehand, then cut them out and added them to the shirt with some small foam pads.

A brad holds the tie in place and looks like a knot in the top. The buttons on the shirt are flat backed pearls.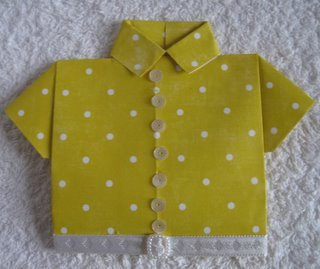 Have a BBQ or a garden party and make the invites reflect the theme.

This one has pearl sequins for the buttons and belt loop.

Send them out to your friends to invite them to a dinner party. The card can reflect the dress code for the occasion.

The bow tie is drawn freehand onto some fancy paper and the cumberband is made by Paper Pleating.

The black buttons are flat backed pearls.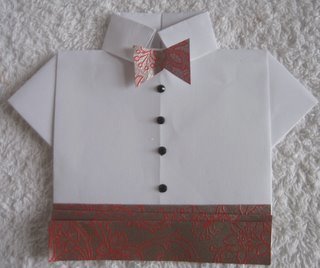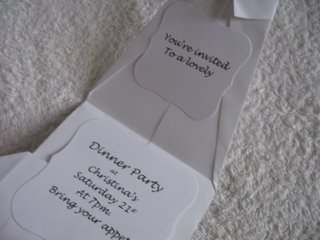 Put the date and time inside the card.

They will fit into a standard sized envelope for you to post.

And at Christmas here is a unique way to wish your family and friends the "Seasons Greetings".

I made the shirt from a pearlised paper, added the flat backed pearls for buttons.
The belt is a thin strip of black pearly paper, threaded through the buckle and stuck on with double sided tape.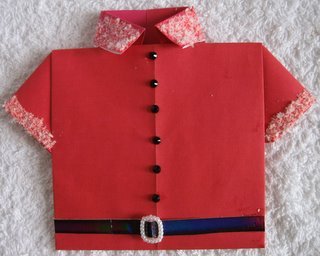 The white trim to the collar and sleeves is Flower Soft.

Altogether some neat ideas for your folded paper shirt, and any you come up with please feel free to add them to the Gallery


Return from Folded Paper Shirt to Homepage

Search
Custom Search
---
---